Kodiak Island Duck Hunting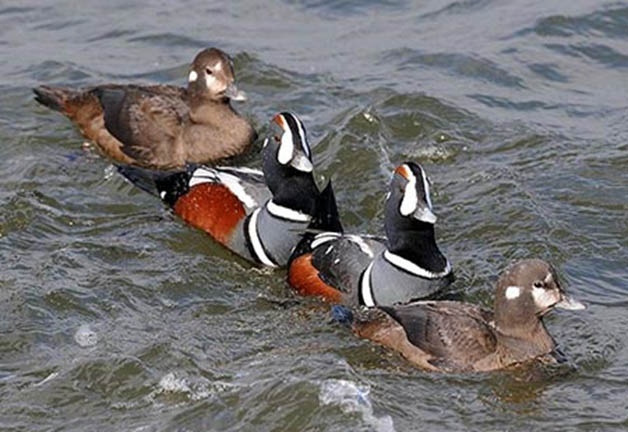 Enjoy World Famous Kodiak Sea Duck Hunting
Kodiak Island should be on every waterfowler's bucket list for a destination hunt. Whether you are trying to mark a few birds off your list, looking for the perfect bird to mount, looking for a scenic place to hunt ducks, or all the above, Kodiak Island is the answer. We start duck hunting in November and run until the end of January. We try to book our full waterfowl groups in December and January to insure the best hunting. The farther into the season we go, the better the hunting gets, and the better the bird's plumage becomes.
In our area we target multiple different species including:
Harlequin
Longtail (Old Squaw)
Surf Scoter
Common Scoter
White Wing Scoter
Barrow's Goldeneye
Common Goldeneye
Greater/Lesser Scaup
Common Merganser
Red Breasted Merganser
Bufflehead
Common/King Eider (rare)
Miscellaneous Puddle Ducks
These birds can help you get closer to finishing your North American Waterfowl slam and provide some of the best taxidermy mounts you've ever seen. Not to mention the beautiful and breath-taking scenery you'll encounter on your hunt with us. Kodiak Island's landscape and wildlife never disappoints. Along with multiple different waterfowl species, you can see Kodiak brown bears, Sitka Blacktail deer, Fox, Orcas, Fin whales and America's favorite bird, the Bald Eagle. There will never be a dull moment on your hunt of a lifetime.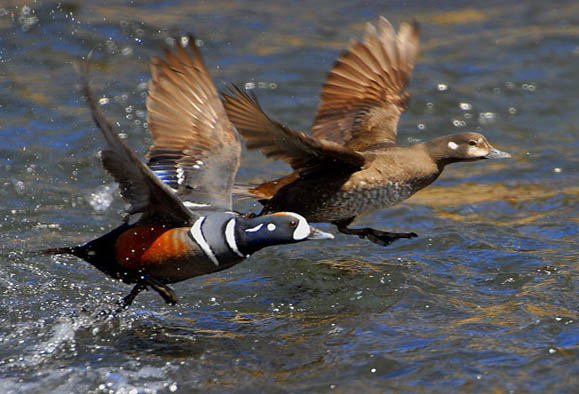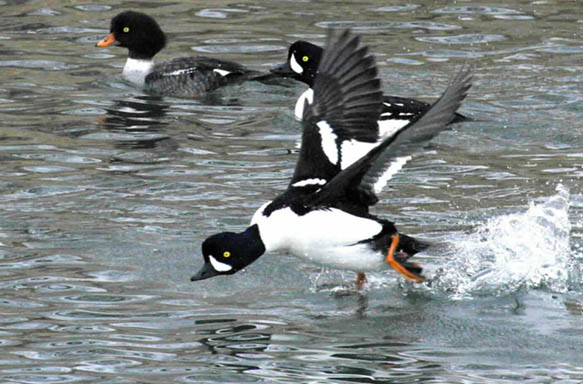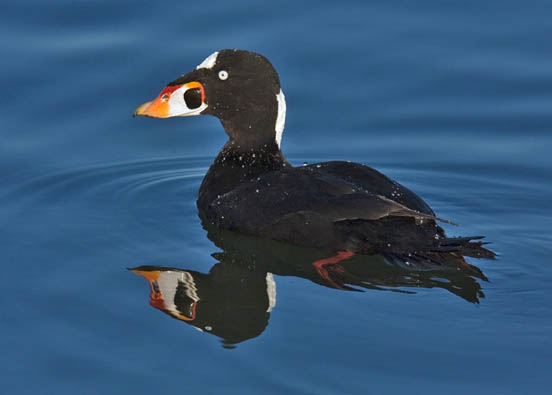 The Hunt
The weather and tides predict what and where we hunt from day to day. We are one of the only lodges that offer 6 full days of hunting, mainly because weather can throw a wrench in our plan and keep us from hunting where we want to hunt.
On a good weather day with the right tide, we will ask the clients what species they would like to target for that day. Doing this makes collecting birds easy and organized.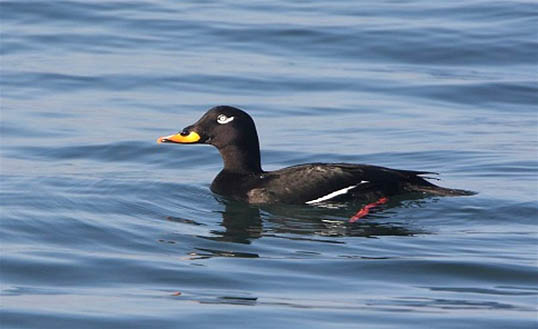 Depending on the species we go after that day, we will either be hunting off of a rocky shoreline with a chase boat picking up downed birds or hunting out of our new 25 foot Bankes duck boat. All our hunting is done over top of the line, detailed, and species-specific decoys rigged on long lines. Shots are usually within 30 yards and your guide will call out prime drakes as they come into the decoy spread, so there is no doubt that you are taking the best bird possible. Our guide is there to make sure you have the best time possible and to keep everyone safe. Weather can be unpredictable, which is normal for Alaska. Some days can be around 40 degrees, while others can be in the single digits. Please come prepared for the worst.
What to Expect
Your group of 4-6 people will fly into Larsen Bay on a Saturday aboard a charter flight from Anchorage and then leave the following Saturday on the same charter flight.
Every morning before we depart for hunting, you'll sit down and eat a gourmet breakfast, so you have plenty of energy for the day. Lunch will be provided and taken with you on the boat, which includes sandwiches, chips, candy bars, jerky and lot of other goodies.
We will leave the dock a little before first light and make our way to our first hunting spot. Throughout the day, we might move to other locations to try and target different birds or just get in a better flight path.
After a full day of chasing birds, we'll head back to the lodge where you can get warm, dry out, and relax while we fix dinner and take care of your birds. The guide will make sure to take great care of your trophy and prepare it for the trip home to the taxidermist.
After a filling dinner, you retire out in your personal cabin and get ready for the next adventure filled day.
Kodiak Island Sea Duck Gear List:
Insulated boots (hip boots or waders will also work but not necessary)
Merino wool socks
Merino wool/synthetic underwear Long underwear
Merino wool base layer shirt
Merino wool/synthetic wool sweatshirt
Water resistant pants
Water resistant jacket
Gore-tex rain pants
Gore-tex rain jacket
Synthetic down (puffy) jacket
Synthetic down (puffy) pants
Headlamp Beenie
Regular Hat
Waterproof gloves
Warm gloves
Warm facemask or neck gaiter
Water bottle
Waterproof bag or backpack for gear
House shoes or slippers
Reliable shotgun
Gun cleaning oil
Shotgun shells: 3" or 3 ½" 2,1, or BB shot (we do have a few boxes of shells here at the lodge that are available for purchase)

License/stamps:

Small game license or regular hunting license
Federal Duck Stamp
State Duck Stamp (must take HIP survey)



What your guide will be wearing most days (for comparison):

Insulated boots
Schnee's merino wool socks w/ liner socks
Under Armor long underwear
Kuiu merino wool underwear
Kuiu down pants
Carhartt insulated/waterproof bibs
Kuiu merino wool base layer shirt
Kuiu merino wool pullover
Helly Hansen fleece pullover
Kuiu down jacket
Kuiu insulated/waterproof jacket
Kuiu insulated/waterproof gloves
Insulated neck gaiter Beenie
6 day 7 night, Guided Hunting Trip: $3,750.00
You will arrive at the Foxtail Lodge the evening before your hunt and depart in the morning after your last day of the hunt
Price includes:
Guided Kodiak Duck hunting
Lodging
Meals
Snacks
Non Alcoholic Beverages
Transportation to and from the hunting areas
Price does not include:
Any Airfare
Hunting or fishing license, tags
Land Use Fee
Gratuity
---
Hunting Fees 2022:
Small game hunting license:

$60.00

Federal Duck Stamp:

$25.00



Non-resident Duck Stamp:

$10.00
To get more information or to schedule your Kodiak Alaska duck hunting trip contact us online at www.foxtaillodge.com or give us a call at (907) 847-2277 during the season or at (971) 219-8403 during the off season