Getting to Foxtail Lodge
The calm protected waters of Larsen Bay and of the Shelikof Strait make this a very secluded location. This area is protected from the rougher waters that are often associated with salt water fishing.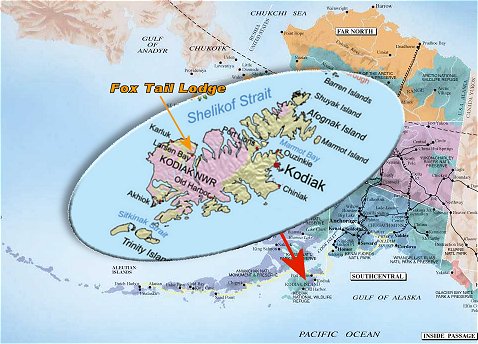 At Foxtail Lodge we are committed to providing our guests with the Alaskan adventure that they have always dreamed of. As with any remote destination, getting here without any hassles is an important part of your experience.
After you have reserved your dates with us, you will want to make your flight arrangements. Make sure to do this as far in advance as possible so you get the best rates that you can. Don't forget that you will need to make roundtrip flight arrangements from your location to Kodiak and you can do this on an airline of your choice. Next, be sure you arrive in Kodiak with enough time to connect with the 5:30 pm Island Air Service flight out of Kodiak to Larsen Bay. On the day of your departure your flight leaving Kodiak needs to be booked for late morning because you won't arrive in Kodiak from Larsen Bay until 9:30.
Island Air Service typically has three flights a day Monday through Saturday and one flight on Sunday. You can also get a charter flight scheduled with Island Air Service, sometimes this is the best way, just contact them for information on schedules or charter flights. Once your flights have been confirmed please give us a call and provide us with your arrival and departure times.
One of the most important factors when flying from Larsen Bay to Kodiak is weight. Please note that, in addition to passenger weight, you can have one bag up to 50 pounds and any additional weight will be charged at .72 cents per pound. So, pack lightly and save the weight for those big fish you will be catching! Major airlines will list weight allowances on their website. Most first-time travelers tend to over pack, so please bring only what you will need.
Arrivals & Departures
You will arrive at Foxtail Lodge at approximately 6:30 PM for your first night at the lodge. Departure from Larsen Bay is approximately 8:30AM on the last day of your trip.
Upon Arrival:
The staff at Foxtail Lodge will greet you at the Larsen Bay Airport upon your arrival. We will load your luggage and transport you to the lodge, check you in, purchase fishing licenses, listen to a brief orientation and then enjoy a great dinner. After dinner you can visit with your guide about the fishing trips. The lodge provides a shuttle service to and from the boat harbor although you may choose to walk, as the boat harbor is just a short distance from the lodge.
Upon Departure:
The staff at Foxtail Lodge will fix you a hot breakfast while you are getting a hot shower and packing your luggage. We will load all your luggage and fish boxes and transport you to the airport to wait for your plane.
For additional airline information or to charter direct, you may wish to contact the following charter companies:
Alaska Airlines: (800) 252-7522 www.alaskaair.com
Ravn Air: (907) 266-8394
Island Air Services: (800) 478-6196 or (907) 487-4596 www.kodiakislandair.com

What To Bring?
Clothes
In the land of the "midnight sun" our summer temperatures will range between the upper 50's to mid 60's, remember that you will be spending your days on the water and most of the time it will be a little cooler.
Two days worth of clothing and three to four days of underwear and warm socks.
The lodge does have some raingear but we suggest you bring your own whenever possible.
If your plans include fishing fresh water you will need to bring waders and perhaps your fly rod.
Don't forget your camera, sunglasses, sunscreen and any medication you may need.
You should bring toiletries.
For your time on the boat you should bring warm layered clothing, hooded sweatshirt, hat, waterproof boots and light weight gloves.
If you happen to forget any personal items Larsen Bay has a small mercantile store that we can take you to so you can pick it up.
The lodge has a washer and dryer to wash your clothes as needed.
If at all possible try and bring your items in a soft duffle bag that can be classified as a carry on so that when you depart you can check two 50 lb boxes of fish!
Alcoholic Beverages
Larsen Bay is a damp community and does not permit the sale of alcoholic beverages. If you plan on having a few drinks you will need to bring your favorite beverage with you. Make sure to pack it well in your check in baggage so that it does not break. We will provide the ice, mixer and soft drinks to the best of our ability.